Please consider downloading the Box Tops App and scanning your receipts to help earn cash for Post!
Principal's Message
Welcome Post Families, 
I am honored to be your child's principal!  It is my sincere pleasure to work with our dedicated staff and community to help provide an excellent educational experience for our students. There are so many new improvements to our campus happening, including a new play structure and swings in the TK/K play area.
Post is a very special school with an amazing staff and we are looking forward to another incredible school year!  I hope you will stay connected through our Parent Square messages, PTA, and with your child's teacher.  Our staff is committed to your child's academic success.
I truly believe that our families play a vital role in the educational success of their children.  Research shows that the more  parents involvement is directly tied to student achievement!   Your support is essential to your child's success in school. When the school, home and child work together, the child receives the best possible education.  You can help by:
Ensuring that your child is ready to learn at school:  is well rested, well groomed with school materials and arrives on time.

 

School begins at 8:15!
Check papers, textbooks and other materials sent home to know what your child is learning.  Attend all conferences and school functions.  
Keep the line of communication between home and school open. If you are not connected to Parent Square please call the office and we would be happy to help you! Also check our website to stay up to date on all upcoming events!
Ensure a time and place for your child to complete homework.
Provide positive reinforcement and consistent consequences at home to support the classroom teacher. 
School hours:      
Grades TK – 6th: 
8:15-2:35 (Mon. Tues. Thurs. Fri.)
8:15-1:45 (Wednesday)
We are fortunate to have the Boys and Girls Club of Garden Grove on our campus.  They offer a daily free after school program for a limited number of students in grades TK-6th.  If you are interested, please stop by our office to pick up an application for your child or call the Boys and Girls Club. 
Go Panthers!
Mrs. Jamie Shippee
Principal
Our School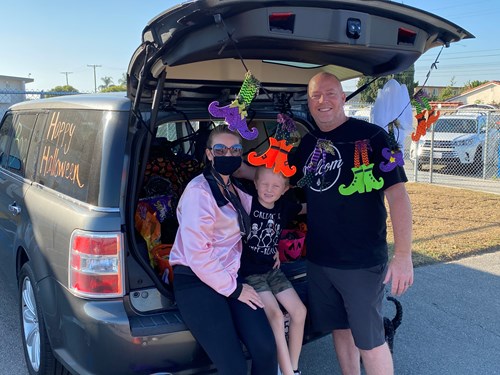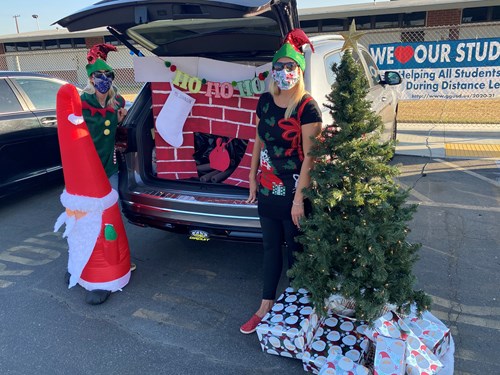 Post Elementary School equips students with academic and personal skills for lifelong success.  At Post, we focus on the whole student. In addition to our highly-qualified staff and teachers, we have a team that includes a School Psychologist, Speech Therapist, and Nurse to provide support for our students' social and emotional.
Academic Support for Students
Post offers a multitude of programs to support students' academic growth.  Students in kindergarten through second grade use iPads and third through sixth grade students have 1:1 Chrombeooks, ensuring technology is a critical component of innovative classwork. Outside of the classroom, students enjoy a variety of opportunities, including:
Academic Pentathlon – Select 6th grade students participate against various southern California schools. Post has continually ranked within the top 3 places since we began participating.


Accelerated Reader – Students are encouraged to read 30 minutes a night. Students are recognized by the number of words they read during our Friday assemblies as appropriate. 


Coding and Robotics Lab

 

– Students have the opportunity to participate in an after-school Coding and Robotics Lab. Various robots are used including Spheros, Dash, and Dot. Students have the opportunity to work in front of a green screen and video.


Educational, Enriching Field Trips – All field trips are educationally beneficial and enhance student understanding of grade level curriculum.


Sixth Grade Science Camp – All 6th grade students have the opportunity to attend Science Camp at Irvine Regional Park for 2 nights and 3 days. At camp, students participate in night hikes, hands-on activities, working collaboratively with each other, and learning about science in an outdoor setting.


Spelling Bee – Annually we hold a spelling bee for fourth through sixth grade students with the winner of our school spelling bee competing against other elementary schools within our district. 
Teachers are trained in GATE Strategies – All teachers incorporate GATE strategies into their instruction. GATE strategies are special practices, procedures, and theories used in the education of children who have been identified as gifted and talented. All students at Post are exposed to these strategies as appropriate. This prepares students to participate in AP and Honors classes.
Celebrating Student Success
All students have the opportunity to be recognized for academic success and positive contributions to the school.
Pride Certificates – Recognized weekly
Panther Awards - 2 times a year for classroom achievement (academic and social)
Principal's Awards – Academically based on final report cards
Individual Classroom Incentives
Community Involvement – Post prides itself on involving our community in various events. We welcome and recognize that we need our families to be participants in their child's education. Many of our community activities include:
Trunk or Treat
Multi-cultural Month

Lunar New Year
Hispanic Heritage Assembly
Parade of Nations

Pumpkin Decorating Contest
Holiday Ornament Family Activity
Friday Flag 
PTA